New Patients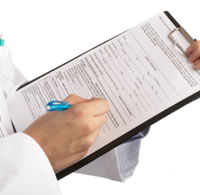 Robert Anavian, DPM is accepting new patients.
Scheduling and Cancellations: Please call our office to schedule an appointment. If you are unable to make your appointment, please notify us 24 hours in advance.
What to bring to your appointment:
Print and fill out our Online New Patient Registration Form to save time at check in.
Insurance card
Photo ID
Names of your other doctors
List of all current medications, or bring them with you.
Recent medical records or x-rays
If you have had orthotics or braces made in the past, please bring them in even if you do not wear or do not like them. This will help doctor find out what has worked or not worked for you.
When to Arrive: Please arrive 15 minutes before your scheduled appointment time to complete any forms. We strive to stay on schedule and understand your time is extremely valuable. New patients may require as much as 60 minutes for their initial evaluation depending on their condition.
Key Forms
*You must have an Acrobat Reader to view the Acrobat files. If you don't already have Adobe Acrobat, you can download the Acrobat Reader Free.